news
05/10/2016
Completion of Beam Diagnostics equipment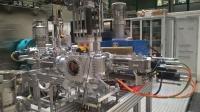 Comeb has manufactured an entire  diagnostic system that  works in a low energy line.  The system consists in a single, 390mm-long, stainless steel chamber operating in UHV. The chamber houses all necessary detectors for the characterization of the exit beam from the source.
Following the beam trajectory, the components included are:
- 4 motorized plates forming a horizontal and vertical slit for emittance measurement, characterization of source spectrum and cutting through undesired hazes.
- 2 motorized wire scanners (horizontal and vertical) to asses beam profiles.
- 1 Faraday Cup that is used for intensity measurement and as a beam stopper.
Each component is equipped with an integrated cooling system.
As the structure is intended for therapeutic purposes, special attention was paid to client specifications.

26/07/2022
Progetto MAGIC
  La Regione Lazio promuove azioni di sostegno alla realizzazione di Progetti strategici e allo sviluppo di collegamenti e sinergie tra imprese ...
leggi tutto

28/02/2020
GANIMEDE
Il Progetto Ganimede for SIGINT (G4S) Ganimede for SIGINT, finanziato dalla Regione Lazio, è stato concluso con successo. Il progetto ha reso ...
leggi tutto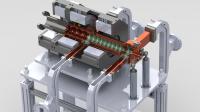 16/11/2016
Delivery of hybrid photoinjector
The hybrid photoinjector is a high current, low emittance electron beam photoinjector/accelerator composed of an RF gun and a short linac designed in ...
leggi tutto